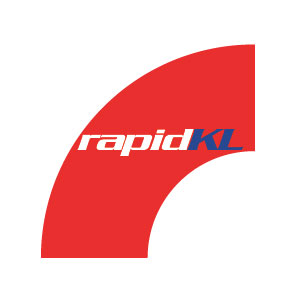 RapidKL or Syarikat RapidKL Senderian Berhad (Private Limited) is Kuala Lumpur's number 1 public transport company. It is part of Prasarana and it is managed by the Malaysian goverment.
The company is introduced in 2004 from Prasarana to improve KL's public transport.
Since 2004, RapidKL is earning millions of Ringgits every year. Which is why RapidKL still remains one of Malaysia's riches company.
RapidKL started its first operation when Prasarana assigned the company to operate the PUTRA LRT (now known as Kelana Jaya line) and STAR LRT (now known as Ampang Sri Petaling line). It was a big challange for RapidKL. Not many people are taking public transport so RapidKL needs to boost the porpularity of public transport.
In 2006, RapidKL did a massive project that involves millions of Ringgit to be deducted: Revamp KL and Klang Valley's bus services. Two former bus companies Intrakota and CityLiner merge with RapidKL and Prasarana. The revamp is uncertain to be completed but in 2006, phase 1 of the project is completed. RapidKL bought newer buses to replace the older buses spending another 150 Million Ringgit.
In 2007, RapidKL took over KL Monorail SDN BHD. RapidKL is operating monorail service for the first time.
In 2010, RapidKL is operating the upcoming KVMRT (Klang Valley Mass Rapid Transit).
RapidKL is also having other future projects. They want to extend the Kelana Jaya and Ampang Sri Petaling line to be connected. They want to buy new busses and new LRT's which would come out in late 2012.
RapidKL is competing with RapidPenang. RapidPenang is part of Prasarana. It was setted up to challenge RapidKL in terms of ridership and finance and other stuff. RapidPenang is currently operating busses and the upcoming Penang Monorail.
So, who do you think will win? RapidKL or RapidPenang?